There are times in your life when you will sit down and wonder, what the hell? While all of us have hobbies, sometimes it all just gets way too boring to do over and over again – and you want to do something new, or something crazy for that matter. You can choose from being absolutely senseless to doing something sensible to totally crazy, OR something useful, it totally depends on you to decide. Following is the list of Top Ten things that you can do when you have nothing else left in life to do. Here are my top favorite things
10
Volunteer Work
Sometimes, it gives you a real boost in morally and physically if you do some volunteer work. Imagine you are sitting at home, having absolutely nothing to do, or nothing that you really feel like doing, in such a case, first make up your mind if you wish to go outside or do something inside your home – If you are planning to go outside then maybe it will be good if you were of any help to others. Volunteer work ranges from filling a jug of cold water on a hot summer day and killing the thirst of people working out on the road. It can also be something as simple as buying food and giving it to the homeless. Nothing feels better than bringing relief and smile on another person's face!
9
Favorite Movies Marathon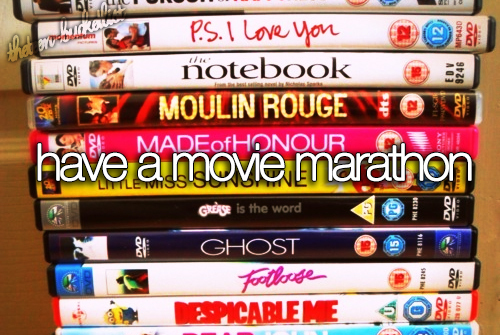 When you are home alone and have absolutely nothing to do, it is time to take out your collection of favorite movies or television series and starting a marathon! If you have a collection saved, its best, however if you don't, you can always stream! So get those popcorns a popping and drinks blobbing and settle down for a day long marathon of your favorite movies – get ready to feel all the emotions and laughter in one day, you won't even know when the day passed by.
8
Get Creative!
There is always that one wall, door or window in your room that you always wanted to get creative at. Maybe this is the right time to get the creative juices flowing. Get your paints out and go bonkers on the wall – trust me by the end of the day, having your very own creation on your room's wall is going to give you that satisfaction of personalization that nothing else would. Had your wall moist due to the monsoon rains? Cover it up with your very own piece of mind.
7
Flash Games Over the Internet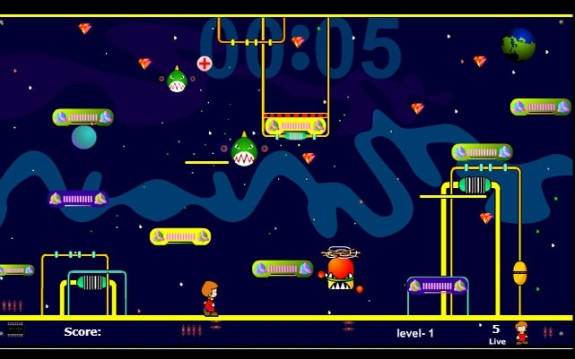 This may sound boring at first, but trust me, these little flash games they put up over the internet for free can be supremely addictive, and this comes from a person who has suffered from online gaming addiction. You might open a flash games site and then loose the track of them, soon enough you will not have any time to get bored. Here are some of the most addictive ones for you to start with
Dolphins Olympics, Earn To Die, Bubble Spinner, Kingdom Rush Frontiers and Warfare 1917.
6
Pamper Yourself with a Luxury Bath
When was the last time you had a really long relaxing bath and pampered your body with all the bath oils and scents? Well now will be the best time to do that. Get that hot bath going, get your scented candles lit. Turn on your favorite relaxing music in the background, and if you don't have any, you can always search for a relaxing music playlist over the internet. This will get you past like an hour or something and you will feel like you are in a much better shape by the time your bath is over.
5
Write Something
Have you ever tried writing? Well maybe you are thinking its not my thing – but sometimes its fun to try new things, and it is always useful to write your thoughts and feelings down. Start writing down something totally random and see how all those thoughts start to make sense put altogether. Might get you past a few hours, and there, you can be a writer for one day! Feel good about it.
4
Time to be The Chef!
Do you like cooking? If not: do you like Food? Here is your chance to try making something! Open up the cooking websites over the internet and find the recipe of something fun to make. Time to send mom off the kitchen and start your own little experiments. ALthought, one important tip is to clean everything off before you leave that kitchen if you don't want a lot of scolding and a big lecture from your mom afterwards! By the end of it, even if it doesn't taste all that good, it will still be your very own made dish!
3
Keep on Surfing the Web
Well if you have taken the effort and time to read this whole article, then you are probably very much bored and still up for reading stuff over the internet. How about continuing this and getting into a loop of reading articles- finding new stuff or just going through random pictures and videos. Sometimes that can become drag, especially if you are doing it over Facebook. However, maybe now is the good time to find some new website or blog!
2
A Brand New Makeover
If you are a girl, then this can be the best idea ever! Get in front of that mirror, take out your best dresses and tops, try new things, try new hairdos as well as make up. Curl those lashes, roll those curls and get pretty pink or dark black on. Once you are done experimenting, you can always take a selfie and put it up over Facebook for the heck of it! If you are a guy, maybe its time to get a new look – get that frenchie you always wanted or spikes to "spike" things up.
1
When All Else Fails: Daydream!
Sometimes there comes a phase in life when you absolutely can't get anything done, and you just don't have the energy or will to get up and do anything at all – in this case, when everything else fails, just turn off your laptop, dim the lights, throw yourself in your favorite chair or beanbag and daydream. Nothing works better than dreaming! Or maybe, just dozz off – a nap never killed anyone of boredom.