Summer is officially here! It's time to pull out your shades and protect your eyes from the blistering UV rays produced by the star that powers our solar system. Should you save some dough and grab a $10 pair of plastic aviators from Wal*Mart, or spoil yourself with a fancy pair of Oakleys that are bound to make your buddies jealous? To help you decide, here are the best sunglasses out there for you (or the man in your life). Whether you're going for a run or just hitting up the beach, this list is bound to help you find the right sunglasses for your unique, personal style!
10
Julbo Trek's
If summer is when you find yourself at your most active levels, a pair of Julbo Trek lenses would be perfect for any outdoor activity you have planned for your day. While they cost $180 USD on Julbo's website, the price is worth it because of the multiple functions they serve. These lenses are meant to function in extreme conditions and are perfect if you're going to do any mountain climbing or tail running.
These sporty lenses protect your eyes from wind, dust, and unruly branches. They are the ultimate sunglasses for fast-paced sports and are made to withstand strong winds. There is also a pair that has an anti-fog function, in case you decide to go for bike ride or climb a trail in the early hours of the day.
9
Spy Optic Screw
Shatterproof sunglasses? Yes, please! These shades – which sell for $150 on Spy Optic's website – will not only adapt to any amount of sunlight, but they will NOT BREAK. That is quite impressive, as well is the fact that they protect your precious eyes up to 100% against UV rays.
Spy Optic has a variety of men's sunglasses, ranging in price from $74.95-$219.95, and unlike most sunglass styles, each one has a variety of colors and frames to choose from. There are also two "sub-genres" of this style: the Screw Under and Screw Over (Spy Optic clearly has a wonderful sense of humor). The Screw Under pair has replacement lenses available for any and all light conditions; while this is a wonderful option, if you're looking to avoid changing lenses, you may want to stick with the regular Screw. Then there's Screw Over, a pair of shades that provide more coverage for your eyes, even from the peripheral side.
8
Equinox by Zeal Optics
It's time to hit the pavement and protect your irises with these polarized lenses that are perfect for your daily run. These lenses are made just for YOU, and they can even be made with the same prescription that you use for your regular reading glasses. This can also help save you money if you buy contacts to wear during your run so you don't break your regular glasses. Also, they are designed to protect your eyes from reflective UV light, which bounces off water. What's even better about these $139 specks is that they're made from plant-based materials, so they are totally eco-friendly as well!
7
Hypermask by Rudy Project
Are you extra-motivated to participate in a triathlon this summer? If so, the Hypermask sunglasses are the perfect choice for you. These multi-functional lenses are designed with the runner/cyclist in mind. There is an adjustable nosepiece which will help keep the glasses steady on your face while you pound the pavement and swoop around the corner during your triathlon event. Also, these shades are now equipped with polarized lenses for ultimate UV protection for your precious baby blues. They are still fairly pricey, even if you visit a site like Shopzilla.com which is supposed to bring good deals. However if you want to look for a pair of Rudy Project shades that aren't necessarily Hypermask, you could get lucky a snatch a pair for as low as $35! That's not too shabby.
6
Tifosi Podium
Want a multi-functional pair of sunglasses that won't make you go broke? These lenses cost under $100 and, while they're non-polarized, are still equipped to provide 100 percent protection against UV rays. They have removable ear and nose pieces with help the glasses stay in place on your face, even if you're dripping with sweat. These glasses can be found online at TifosiOptics. Their lenses are unique in that they come in customizable colors as seen in their Clarion Mirror collection.
Where can you buy a pair of these sporty and sophisticated shades? Look no further than REI.com!
5
Oakley Holbrook Sunglasses
This collection of Oakleys has the most unique styles and colors amongst its square frames. They are made to be lightweight and durable, and are available in the Oakley Prescriptions collection as well. For $120 a pair, you get 100% UV ray protection and crazy color combinations in the lenses such as red and orange for a sunset look, or blue and violet to match a stormy summer sky. If you're at a vendor and aren't sure whether the shades you're purchasing are real or fake, just look for Oakley's "O" on the left side.
4
Ray Ban Wayfarer Sunglasses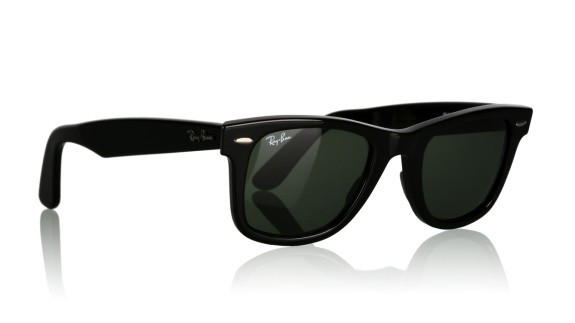 These shades are great if you're going for a more casual look for your summer time adventures. If you're going for a picnic on the beach or hanging out and getting ice cream on the boardwalk with your sweetheart, these lenses are bound to catch the attention of onlookers. The prices range from $55 (juniors) – $200 and have a variety of colors and shapes. They even have a pair that can be folded and placed in your pocket for safe-keeping, and the lenses are easy to clean without being scratched in the process.
3
Police Men's Sunglasses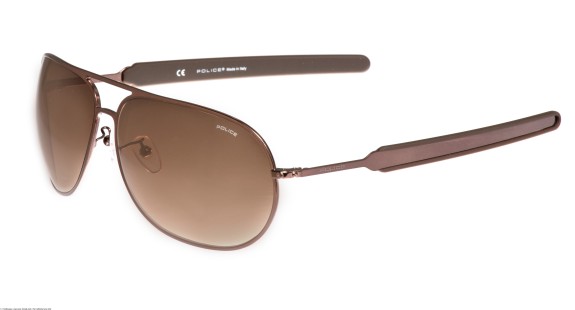 Police quite possibly the world's most famous company for men's sunglasses styles. A full-rimmed, rectangular metal frame exerts authority with an extra dash of cool thrown into the mix as well. The arms of the glasses are tapered and the nosepads are adjustable so they can fit on any face shape. They are one of the most durable pairs of sunglasses out there, although if you're willing to spend between $85-$230 for a pair of shades, do you really want to test that theory?
Policelifestyle.com is the direct website where you can order these 'like a boss' sunglasses. The frames come in a variety of vibrant colors and are suitable for any outfit you plan on piecing together throughout your summer.
2
Garrett Leight/Mark McNairy Men's Gold Frame Sunglasses
When it comes to simplicity, nothing beats these stylish gold frames that will help you stand out in a crowd. You don't have to sport an Armani suit to look cool in these shades; if you're looking to don a pair of jeans and a t-shirt, these sunglasses give you a sophisticated look that is bound to make the dude next to you super jealous. This look will cost you around $160. The marriage of these two companies is bound to delight any gentleman who's wants to look strong not only through his muscles but through his choices in accessories as well.
1
Prada 59mm Aviator Sunglasses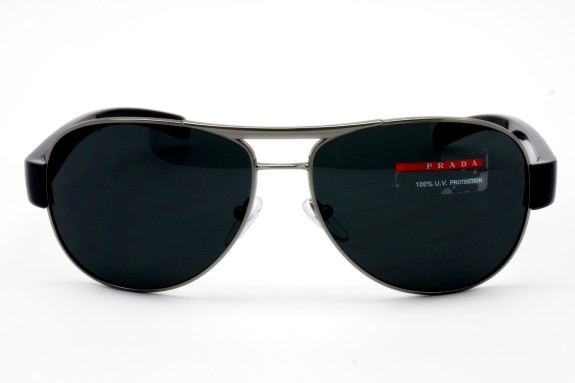 While these are the most expensive sunglasses on our list (the price tag = $310!), these shades are perfect for ANY outfit that you have in your wardrobe. They may not be suitable for some of the wild and adventurous outdoor activities that we'd talked about early on in the list. But, if you're going out for a casual night on the town or are looking to spark a little romance with a candlelight dinner on the beach, these shades will give you a sleek look that is bound to woo your date well before the sun goes down. Prada is known for creating fashionable wardrobes – why not add fashionable accessories to your outfit as well?
No matter the time of year, it is important to protect your eyes from the sun and other elements. Even on a cloudy day, it's not a bad idea to pull out your shades because they can prevent pollen and other airborne allergens from making your eyes become all dry and itchy. If you don't want to spend a decent chunk of your paycheck on some fancy shades, you can always grab a pair from CVS or even the Dollar Tree – if you're the type of person who loses sunglasses easily. At least this way it will be easy to replace them! Enjoy your summer.