Every country in the world needs an army, whether it be for internal or external protection of its land and people. Two of the largest factors governing the size of a country's army are finance and location. Often a country may spend more than it can really afford on its army because it is bordered by, what it thinks, are potential enemies, whilst another country may not spend as much, on an army as it can afford, due to it having peaceful neighbors.
The outcome of a war cannot be foretold by the size of a country's army though; many factors also have to be taken into consideration, such as logistics; it is no good having the biggest army if you can't supply them with fuel, ammo and food,  Strategy;  the experience of the military leaders,  Intelligence;  knowing what to expect from the enemy. Probably most important of all though, is the quality of the soldier; this includes training and the belief in the cause.
The strength of an army can only be determined after knowing the who, when and where of a conflict; who is the enemy, where is the war to be fought and when will it be thought. In the mean time, armies can only amass numbers, equipment and training.
Here are probably the 10 strongest and largest armies in the world:
1.China
This country has the largest population and also the largest army with 2,290,000 soldiers. To support them they have 8,500 tanks, 61 submarines, 4,000 fighter jets and 54 surface skips. The army is well trained and growing.
2.India
This is the home to the second largest army of 1,325,000 soldiers. This army is equipped with missiles and consists of an Air Force, Navy and Paramilitary all capable for the defense of their country.
3.Russia
The Russian army consists of 1,027,000 soldiers, many of them conscripts. This army is equipped with some of the best tanks and aircraft in the world and has plenty of them.
4.North Korea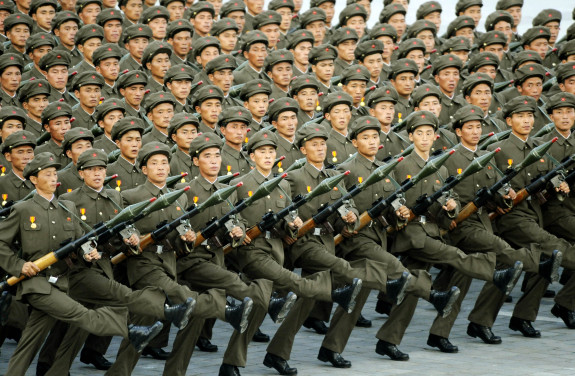 – This, the 3rd largest army consists of 900,000 well trained soldiers and has 4,500 tanks and a large number of anti tank weapons.
5.Pakistan
There are 617,000 soldiers in the Pakistan army. This army is well equipped and trained.
6.South Korea
With 560,000 soldiers, this is the 6th largest army. Although very well equipped its predominant armament are cannons.
7.United States
Although not the largest, considered by many to be the strongest. This army is well equipped and in possession of new technology weaponry. The army is well experienced through combat in several war zones.
8.Iraq
This army is experienced in warfare, as are many of its 450,000 soldiers.
9.Myanmar
Many of this country's 425,000 soldiers are conscripts but this means that many of the civilians have had military training, making a quick enlargement to the army easier.
10.Iran
This, the 10th largest army has 320,000 soldiers. The army is experienced in war as they were at one time, with war against Iraq. As well as experience, the army consists of 14 land divisions, 15 Air Force Squadrons and 170 ships.