Flowers add a burst of color to nature's canvas. We see most beautiful flowers in the world like roses, carnations, tulips and sunflowers everywhere. Have you ever wondered what are some of the rare flowers of the world? We have compiled a list of the top 10 rare flowers in the world for you. Some of them are plain beautiful, others a little strange – but all are real. This is a general list of rare flowers and the flowers are not listed in increasing or decreasing level of rarity.
10
Corpse Flower
Named because of the foul rotting smell it emits, the corpse flower is a rare flower found in Indonesian tropical rainforests. It has a parasitic relationship with the Tetrastigma vine, which means it gains its nourishment from it. This flower is a carrion flower – its pungent smell is given off to attract insects and flies to it, which aid in its pollination. It blooms for only a week and is considered an endangered species. It can grow to a staggering height of as much as a meter. Its fleshy, carnivorous flower and incredible height makes it look like something right out of prehistoric times.
9
Magic Dogwood
While the dogwood flower is fairly popular, magic dogwood is almost impossible to find. It is a Mexican flower and each flower is different from the other. The flowers are white and shaped like Chinese lanterns. They bloom in spring and the whole tree becomes a fascinating spectacle of tiny white floating lanterns.
Finding the flower is so difficult that you might not even find its seeds in most plant shops. Only specialized nurseries or botanical gardens may carry them.
8
The Hooker's Lips
Also known as Hot Lips (scientific name: psychotria elata), this rare and severely endangered species of flowers are indigenous to some South American countries like Costa Rica, Ecuador, Columbia and Panama. They are named such because they look like luscious pouting red lips. The nature has an remarkable sense of humor, it seems.
7
Kadupul Flower
The Kadupul flower is found in Sri Lanka and has a special significance for Buddhists. They believe that the flower blooms as the mythical tribe of Nagas descends to offer it to Buddha on the Mountain of Sri Pada. The flowers have a strange mysterious fragrance and delicate white flowers. It is equally mysterious that the flower blooms only at midnight and dies before dawn. Adding to this air of mystery and mysticism, the flowers bloom in the season when people flock to Mount Sri Pada.
6
Snowdonia Hawkweed
This plant is more in the category of weeds but its flowers are so rare that we decided to put it on our list. If you stumble across these flowers, they may seem pretty common – small yellow flowers with petals that look like a flat paintbrush. However, it is only found in Snowdonia, which is a small region in the Wales. Currently, there are only seven known patches of these flowers in the world.
5
Ghost Orchid
Orchids are popular ornamental flowers around the world but ghost orchids are so rare that for twenty years, it was thought that they were extinct. They are mainly found in Cuba and one variety of these flowers is found in Florida. The plant is very difficult to propagate because of various reasons. First, it has no leaves and does not use photosynthesis for obtaining food and energy. As a result, it needs to rely on a certain kind of fungus around its root to manufacture its food for it. Its pollination occurs only through the giant sphinx moth and that too only if the seeds land on a certain kind of moss, which aids in their germination.
The plant can live underground for a long time and blooms between June and August. When in bloom, they look like floating ghosts in the tree.
4
Yellow and Purple Lady Slippers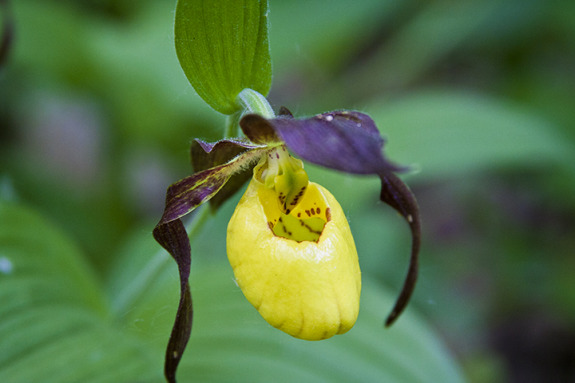 Another variety of orchids that is extremely rare but equally beautiful is that of yellow and purple lady slippers. It has bright yellow flowers shaped like mocassins and dark purple tendrils. The plant is close to extinction because of its shrinking habitat as woodlands are cleared by humans and by the grazing of sheep. Moreover, it needs a symbiotic relationship with a certain fungus to grow which makes its survival and growth chances even harder.
The last remaining plant of this rare flower in Great Britain is currently under police protection and reintroduction programs are under way to propagate it into the wild again.
3
The Pitcher Flower
This flower gets its name from the way it looks – like a pitcher. It is a carnivorous flower with a large gourd in it that attracts insects to the pitcher-like cavity inside it. Once an insect flies into this cavity, it is trapped. It can grow as high as a meter and a half.
2
Youtan Poluo
Other than being scientifically established as a flower (but having no scientific name), this plant does not look like a flower at all. It is more like spider web-like filaments with tiny white bulbous heads. It was discovered in China and has a sweet smell. According to Hindu myth, this flower blooms when the King of the future visits the present. In Buddhism, it is believed that the flower blooms only once in three thousand years – a fact also backed by some botanical experts. No wonder this plant is so rare!
1
Koki'o
The Koki'o flowers are from a tree in Hawaii. Discovered in 1860, in 1950 it was thought to be extinct. However, in 1970s, a surviving plant of Koki'o was found. As luck would have it, it too was destroyed in a fire. A branch survived though and has been used since to graft into 23 trees around Hawaii. This flower's tree can grow up to 10-11 meters. These are not the longest trees in the world.
Do you know of other rare flowers that are hard to find? Let us know in the comments.