Pollution today is a growing problem all around the world. Some places though are worse than others and it isn't always the heavily populated cities or the overcrowded places that are at risk, although it is sometimes. Here is what are probably the top 10 most polluted places in the world:
10. Arctic Canada
Type of Pollution: Persistent Organic Pollutants (POPS).
At Risk: Indigenous Communities.
These types of organic chemicals, such as DDT, break down in earth's environment very slowly. They ride the water and air currents ending up in Arctic Canada.
9. Chernobyl, Ukraine
Type of Pollution:Radiation.
At Risk: 135,000 People.
When the Chernobyl nuclear reactor melted down in 1986, it was not just the 135,000 people who were evacuated that were at risk, it has been estimated that in total 5.5 million people would have suffered ill health due to this event.
8. Sukinda, India
Type of Pollution: Hexavalent Chromium.
At Risk: 85% of the regions Population.
The pollution of Hexavalent in drinking water here is 20 times more than the internationally permitted limits. 12 Chromium open mines continue to operate in this region without environmental controls.
7. Tianying, China
Type of Pollution: Lead.
At Risk: 140,000 people.
This is the center for China's lead processing industry and deals with the production and recycling of 50% of China's total amount.
6. Sumgayit, Azerbaijan–&gt
Type of Pollution:Organic Chemicals.
At Risk: The City Population.
In its hay day this Soviet city used to contain 40 factories pumping out 109,000 tonnes of harmful emissions annually. Today the population still has a 51% higher rate of cancer than anywhere else in the country.
5. Dzerhinsk, Russia
Type of Pollution: Chemical Weapons Production.
At Risk: 250,000 people.
This city used to be the center for all chemical weapon production in the Soviet Union. Even today the effects are being felt by the city's population who has a life expectancy of 42 for men and 47 for women.
4. Kasargod, India
Type of Pollution:Pesticide.
At Risk: Everyone.
Endosulfan is a pesticide that has been banned for use in many countries but is still used by some. Although the use of this over the last 20 years has resulted in mental health problems being 107% higher here than the rest of the country, there have been deaths reported for people that have just ate the food it was used on.
3. Central Kalimantan Province, Indonesia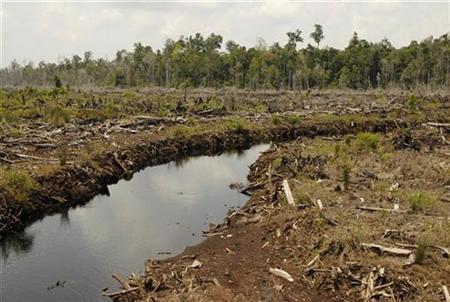 Type of Pollution: Mercury.
At Risk: Local Populace.
In this area of Borneo, Mercury is used to separate gold dust from silt. Part of the process requires that the Mercury be heated; emitting vapors which when inhaled are dangerous. As this area is responsible for 1/3 of all the world emissions, the local population is all at risk.
2. Bhopal, India
Type of Pollution: Industrial Chemicals.
At Risk:1.8 million People
This is the site of the industrial accident in 1984 and although it has already caused 20,000 deaths, the area has still not been cleared up, leaving the whole city population at risk.
1. Linfen, China
Type of Pollution: Air Pollution.
At Risk: City Population.
This is the center of the coal industry in China and people are literally choking to death on coal dust.