For most of us weddings are expensive; but are they really?
When money obviously isn't a problem, how much would you spend on that hopefully once in a lifetime experience?
Here are the top 10 most expensive weddings to date: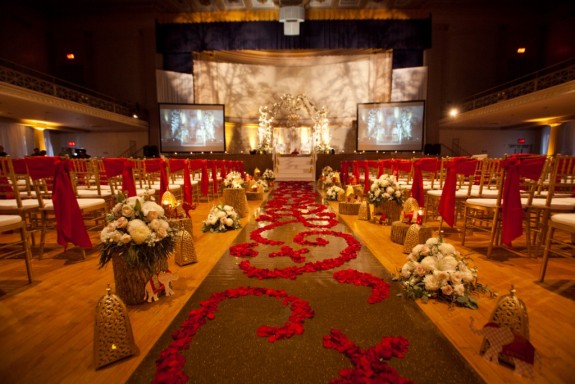 10. Katie Holmes and Tom Cruise
Cost: US$2 million.
After becoming engaged at the top of the Eifel Tower, this couple had only 150 guests at their wedding at a 15th Century Castle in Italy. All the bridal wear was designed by Giorgio Armani though and Boccelli gave a musical performance.
9. Heather Mills and Paul McCartney
Cost: US$3 million.
Although this wedding did take place in a church, the reception was at Castle Leslie in Ireland. Here the 300 guests, as well as being feasted, were treated to a fireworks display and dancers dressed in Indian clothing.
8. David Gest and Liza Minnelli
Cost: US$3.5 million.
This wedding was held at the Collegiate Church in Manhattan and catered to 850 guests. Apart from a 60 piece orchestra, the guests were treated to performances by Tony Bennett and Natalie Cole. The cost included a US$40,000 cake and US$700,000 of flowers.
7. Arun Nayar and Elizabeth Hurley
Cost: US$7 million.
The festivities for this wedding lasted 8 days as it started in a 15th century Castle in Gloucestershire, England and then the wedding party travelled to a Palace in Jodhpur, India to continue the celebrations. Each Night at the Palace Suite cost US$10,000.
6. Alessandro Vallarina Gancia and Delphine Arnault
Cost: US$7 million.
When the father of the bride is a rich businessman who has been labeled the 'Pope of fashion' and the groom is part of a wine dynasty, then you can expect dress and wines of the best. The wedding venue in Cote d' Azur, was decorated with 5,000 White Roses.
5. Coleen Mcloughlin and Wayne Rooney
Cost: US$15 million.
At this wedding reception the 64 guests were served Pizza. The cost came from the 5 private jets that were hired to bring the guests to the 4 day event on a yacht off of the Italian coast and of course a wedding dress that cost almost US$4 million.
4. Vikram Chatwal and Priva Sachdey
Cost: US$20 million.
This event spanned 10 days and three Indian cities with a chartered jet to transport the guests between venues. There were 600 guests one of whom was Bill Clinton.
3. Aleksandra Kokotovic and Andrey Melnichenko
Cost: US$30 million.
This extravaganza of an event was attended at the Cote d' Azur by many of the rich and famous. The guests were treated to performances by Christina Aguilera and Whitney Houston, who only charged US$3.5 million each for their performances.
2. Sheikh Mohammed bin Rashid and Princess Salama
Cost: US$44.5 million.
The Sheikh, the ruler of Dubai, had a stadium especially built for this event that treated 20,000 guests to 7 days of luxury.
1. Vanisha Mittal and Amit Bhatia Cost
US$78 million.
1,000 guests received 20 page Silver invitation cards detailing the 5 day event. The event itself took place at a Chateau in France where 100 dishes were prepared by a top Calcutta Chef. A highlight of the event was a performance by Kylie Minogue.