If you're up for luxury vacations, you really need to redefine your hotel search. Thoughts of best hotel deals would never take you to some of the leading hotels in the world. If you're still feel you'll having trouble searchingf them, here's a list of top 1o most expensive hotels with best hospitality in the world that might help you.
There are several high end hotel brands around the globe competing to find a spot in the top 10 most expensive hotels with best hospitality in the world. These hotels are meant for the moneyed high class individuals who don't mind spending thousands of dollars just to spend a night in a luxury suite. This list offers the top 10 most expensive hotel suites with best hospitality.
10
Royal Towers Bridge Suite, Atlantis, Bahamas – $25,000 per night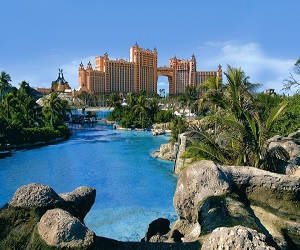 This is one of the most glamorous hotel suites in the world and includes 10 rooms, golden sofas, gilt mirrors and chandeliers. The floor is elegantly finished with an assortment of carefully arranged marbles. It has a complete entertainment center and offers refreshing balcony views.
9
Ritz-Carlton Suite, Ritz-Carlton, Tokyo – $26,300 per night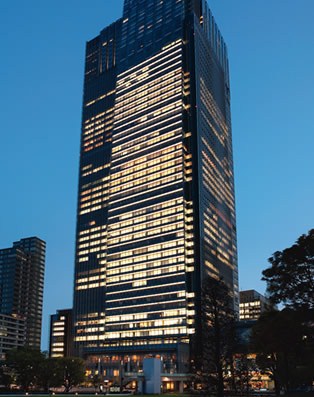 The suite has a number of lavish features which include a big marble bathroom, huge beds, linen sheets, individual rain shower booths and flat-screen TVs. The suite is located higher than the tallest skyscrapers around and provides splendid views.
8
Villa La Cupola Suite, Westin Excelsior, Rome – $30,000 per night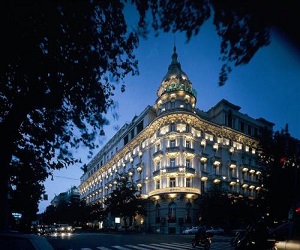 The villa La Cupola Suite offers the ultimate luxury experience. The villa is one of the biggest in Europe and is made in an ancient roman style, with abundant use of marble, frescoes, and stained glass. There is a splendid terrace that offers impressive sunbathing experiences. The villa also features a private spa, whirlpool, steam bath, and a private cinema.
7
Presidential Suite, Hotel Cala di Volpe, Sardina, Italy – $32,736 per night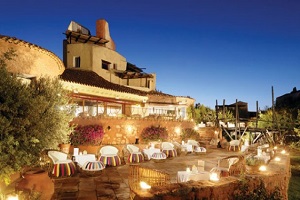 This is one of the most beautiful presidential suites in the world. This three-bedroom luxury hotel is situated above the rambling towers and roofs of the luxury resort. The presidential suite is perfectly situated for sun bathing and overlooks the gorgeous brine of Costa Smeralda. The presidential suite also has a private roof terrace, outdoor gym, and a wine cellar.
6
The Royal Villa, Grand Resort Lagonissi, Athens – $34,356 per night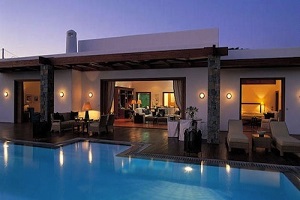 This provides one of the finest hospitality on the globe. There is a private chef, a butler, and pianist at your disposal. This magnificent villa features three bedrooms, an indoor pool, an outdoor heated pool, a steam bath, massage room, and a gym. The Royal Villa at the Grand Resort Lagonissi offers a memorable treat for the rich traveler.
5
Hugh Hefner Sky villa Palms Resort, Las Vegas – $35,487 per night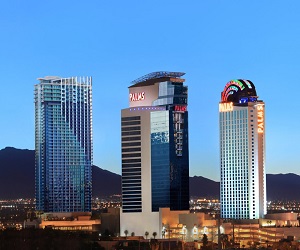 This luxurious sky villa is fitted with everything a moneyed play boy needs – classic artwork, spacious rotating bed, an indoor pool, and a libido raising spa bath. The suite measures 836-square meters and also features a bar, two bedroom pad, an amazingly sized and designed bathtub, and a poker table.
4
Penthouse Suite, Hotel Martinez, Cannes, France – $37,500 per night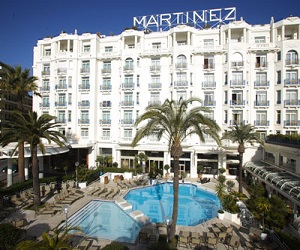 Hotel Martinez has a world class restaurant, piano bar, and a magnificent private beach. The hotel suite will provide you with a sitting room, dining room, two bathrooms, two bedrooms, shower, spa bath, sauna, and dressing room. It also gives you a good view of Cannes from a huge terrace.
3
Ty Warner Penthouse Suite, Four Seasons Hotel, New York – $41,836 per night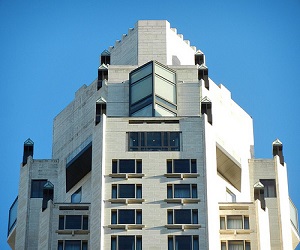 This suite takes the entire top floor of the superb hotel, and provides a 360 view of Manhattan. The Four Seasons hotel offers memorable hospitality, and this particular nine-room suite was designed by Peter Marino, a master architect. The suite features fabrics encrusted in gold and platinum, a private trainer/therapist, and a chauffeur.
2
The Presidential Suite, The Raj Palace Hotel, Jaipur, India – $45,000 per night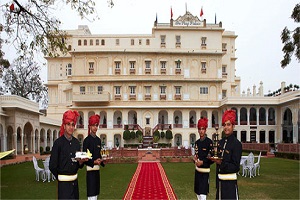 This evidently palatial suite used to be the residence of a former Maharaja. The suite measures 1,500 sq meters, one of the biggest in Asia. It features lavishly finished apartments that are decorated in ivory, stucco, gold leaf and mirror work. It also features a swimming pool, a private roof terrace, and a museum.
1
Royal Penthouse Suite, Hotel President Wilson, Geneva – $65,000 per night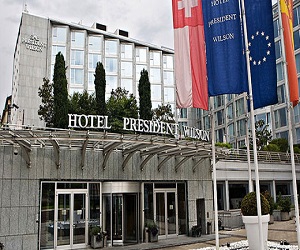 This suite is designed to meet all the demands of a luxurious visitor. The suite features some high tech security features including bullet proof doors and windows. The suite features a dedicated elevator and has up to 12 rooms including a library, a billiard room, fitness center, and grand piano. The suite offers the best hospitality for visiting heads of state and celebrities who love their privacy.