Unless you are an archaeologist, probably the only way you will get to learn history is in a museum like the Boston Museum of Fine Arts but a Museum of fine arts or any museum of modern artists are not the only reason for museums, they also hold the history of civilizations, ancient or not so old and in some instances, even the history of our planet itself. Museums themselves have now been around for quite some time and some of the oldest ones have now become part of our history. Here is a list of which are probably the top 10 World's most oldest museums with the country they are in and the year that they opened.
10
Belvedere, Austria – 1776
This started as a collection for the Royal family of Vienna and was kept by Prince Eugene of Savoy in the Imperial stables. In 1776 the collection was moved to upper Belvedere where shortly after was opened to the public.
9
Hermitage Museum, Russia – 1764
Located in St. Petersburg, this collection was started by Catherine the Great and is now the largest collection of paintings in the world.
8
British Museum, UK – 1753
This museum is housed in a beautiful building and has over 7 million articles in several different departments ranging from the Department of Conservation and Scientific Research, the Department of Oceania and the Americas, Department of Prehistory and Europe and the Department of Coins and Medals.
7
Kunstkamera, Russia – 1727
This, the first museum in Russia, is also located in St. Petersburg. Started by Peter the Great, the collection now has nearly 2 million articles.
6
Ashmolean Museum, UK – 1683
This museum received its first collection from Elias Ashmole and is located in the city of Oxford. Among the popular exhibits are Biblical manuscripts, a dress costume worn by Lawrence of Arabia and paintings by Da Vinci and Michelangelo.
5
Amerbach Cabinet, Switzerland – 1661
This collection was purchased by the city of Basel who soon after opened it for view by the public, making it the first public museum ever opened.
4
Uffzzi Gallery, Italy – 1581
Located in Florence, the building itself is also considered of great interest as, having a long courtyard that opened to the River Arno, it is unique and considered to be the first streetscape in Europe. Its exhibits include works by Da Vinci, Michelangelo, Giotoo and Caravaggio.
3
Royal Armouries, UK – 1545
Not only known as being one of the oldest museums in the world, the Royal Armouries are also known for housing the largest collection of arms and armour in the world.
2
Musei Vaticani, Vatican City – 1506
Started by Pope Julius 11, this collection was first housed in the Borgia Apartment but later special buildings were built to house it. It now consists of several groups of museums, many housing unique statues.
1
Musei Capitolini, Rome – 1471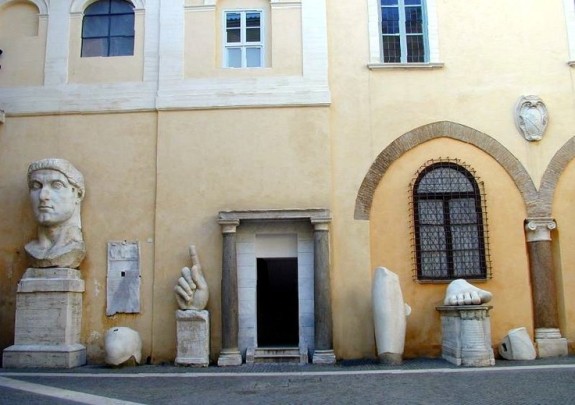 This museum was started by Pope Sixtus 1V. The museum today is housed in three palazzo that have a Piazza at their centre, which is said to have been designed by Michelangelo and took 400 years to complete.