Back in the day, wristwatches weren't just worn for fashion's sake, but for actual use. In today's world, where everyone has a smart phone in hand, the need to wear time over your wrist has kind of worn off – some do it to humor an old habit, while others do it for the sake of fashion. While you may find a wristwatch at any general store or gift shop, priced less than $20 – you will be shocked to know how much a wristwatch in the fashion world costs. There are watches worth more than sports cars and mansions. That being said, following is the list of the most expensive watches in the world right now:
10
Louis Moinet Meteoris Watch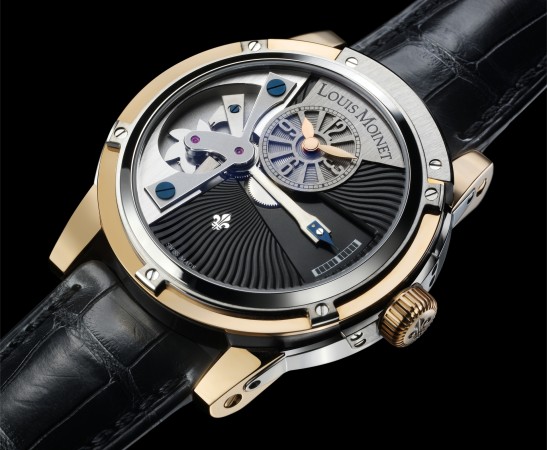 Imagine how it would feel to have a watch on your wrist that is literally out of this world? Louis Moinet Meteoris is one of the most expensive watches in the world and comes with an actual meteor stone from the moon attached to it. Other than its function of showing the "time", this piece of remarkable machinery also includes a perpetual calendar mechanism. Louis Moinet Meteoris watches are of different kinds, and each one consists of a rare meteorite such as Tourbillion Mars, Tourbillion Rosetta Stone and Tourbillion Asteroid.
9
Patek Phillippe Ref. 1527
Patek Phillippe is nothing fancy – it is your regular watch that consists of no out of the world stones. However, this classic is heavily expensive because these watches were made during World War period, and later in 2010, were sold on auction in Geneva. What makes it expensive? One, this little baby was in its time the largest wristwatch of the world. It also includes a perpetual calendar, so you will and time and date on your wrist all day long. The watch is made of 18 carats of gold and has Arabic numerals embedded in gold. On the whole, this piece is really expensive for being a "classic."
8
Cartier Secret Watch With Phoenix Décor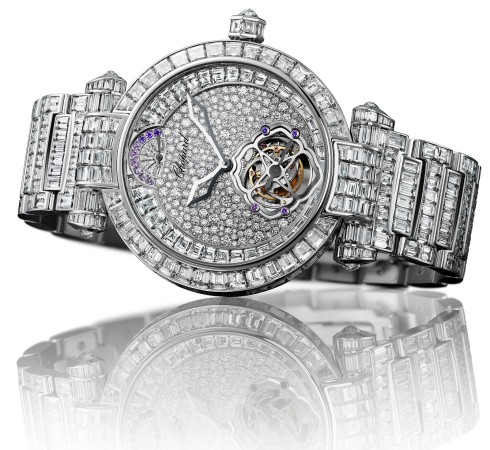 The best thing to gift to your girlfriend if you are rich enough to afford a Ferrari-worth wristwatch would be Cartier Secret Watch with Phoenix Décor. This beautiful watch is around 18 carat rhodium plated gold and is decorated and furnished with around 3000 cut diamonds, so that its weight is around eighty carats. Designed in the shape of phoenix, who wouldn't feel proud wearing it on their wrist while going out?
7
Chopard Super Ice Cube
Shaped like several ice cubes joined together, this sixty carats diamond watch is every other woman's dream. This beautiful piece of jewelry plus time keeping machine is also water resistant and its exterior is also super preventive of damage and scratches. Throw it from a hundred feet and you will have difficulty finding even a single scratch on its exterior, hence no worries if you are a clumsy person!
6
Patel Phillippe Platinum World Time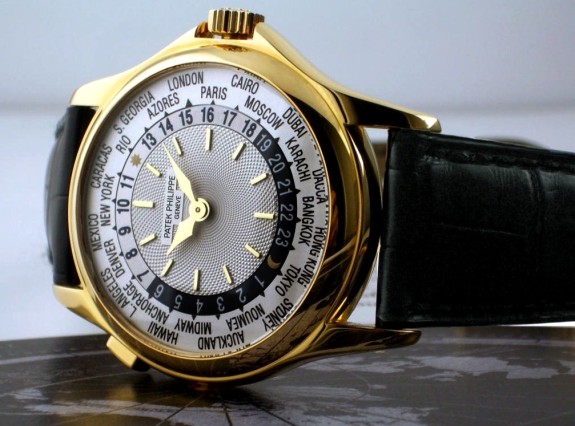 What man wouldn't want this classic piece of art on his wrist? Patel Phillippe's Platinum World Time watch comes in three different colors: white, yellow and rose gold. The super power that this watch has is its ability to wind up and tell the time of any country in the world! Apart form its leather straps and stunning finish; this wristwatch also comes in handy if you are a person who travels a lot. So, if you have a rough estimate of $4 million, this is the watch you need to spend your money on.
5
Hublot – Big Bang
What was the gift that Beyonce Knowles gave her husband on his 43rd Birthday? Yes: Hublot – Big Bang – This celebrity choice wristwatch is studded with 1280 diamonds, around three carats each. It took around one whole year to gather all the diamonds and bring them together to the workshop to make this exotic piece of jewelry – however the hard work was worth the wait because the end result was absolutely marvelous. The stones were shredded and designed by several famous jewelers with more than forty years of experience, living in New York. This exotic watch is somewhat of something out of this world.
4
Roger Dubuls Excalinbur Quatuor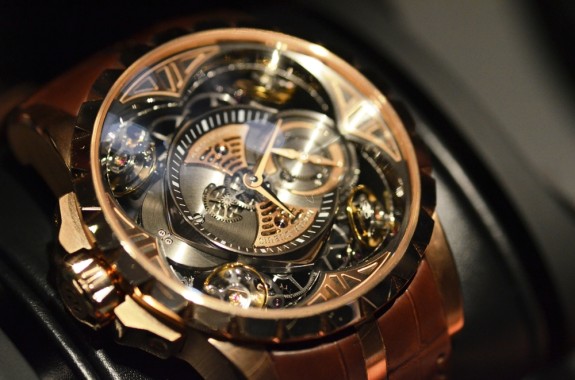 This one of the "million dollar watches" gets into the list mainly because of its exquisite silicon case. According to the company, no watch before Quatuor has come with a case entirely made of silicon, which is basically a material that has half of titanium's weight, however comes with four times more hardness. The Quartuor is currently Roger Dubuls most expensive wristwatch and comes with RD101 movement.
3
Bregeuet Grande Complication Marie-Antoinette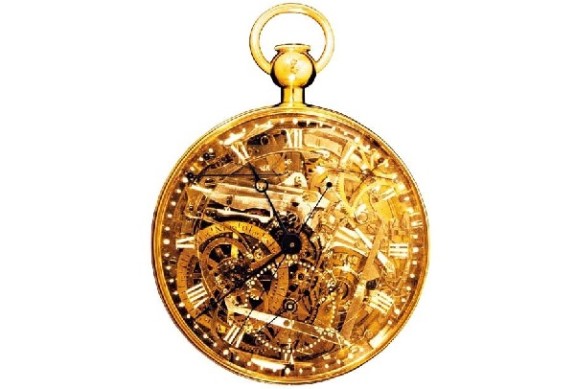 This $30,000,000 worth exotic machine is not a wristwatch, but it is a watch. Wonder what makes a watch worth a fortune? The queen of France, who was alleged lover of Marie Antoinette, commissioned this little time telling machine. The work began in around 1782 and finished in 1827. It was designed by Abraham-Louis Breguet, who also worked on it for the most part; however, it was finished by his son, around four years after Abraham died. The end result was the creation of this amazing, classy and technologically perfect watch, which was beautifully incased in pure gold. However, Marie herself never got to appreciate the beauty of this masterpiece, for she was executed some 34 years before Bregeut Grande Complication was completed.
2
Blancpain 1735 Grande Complication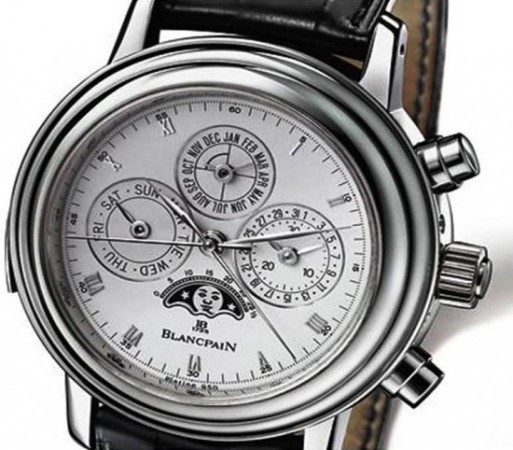 Also Grande Complication, Blancpain 1735 is a masterpiece in the world of watchmaking art. This wristwatch is self-winding and requires no batteries. The whole piece is a remarkable piece of art, while many of the watch's parts are also made of eighteen carats gold.
1
Chopard 210 Carat
Wondering which is the MOST expensive wristwatch of the day? The Chopard 210 carat takes away the first prize. Being of around $25 million worth, it masters the art of wristwatches. The watch has numerous colored diamonds, which are 201 carats. There are also three prominent diamonds in its design, which are heart shaped. These half bracelet/ half wristwatch is a piece of jewelry that will boast of your worth!