There are almost 7 billion mobile users in the world today, which is close to the total population of the world. This does not mean that almost everyone in the world owns a phone, but that some people own secondary phones, say for business purposes. With mobile phones this common now, they have lost the novelty appeal they once held, leaving people who crave uniqueness to look for other ways to stand apart. The mobile phone companies found a new customer base: the rich and the famous. Enter a collection of most expensive mobile phones.
Bored with your current iPhone and have a little spare cash (yes, pun intended) lying around? Try one of their exclusive designer designs. Or have you run out of jewelry options to own more diamonds? Maybe that friend of yours is sporting a snazzy phone with a large pink diamond? So, here's a list of the top ten most expensive mobile phones in the market:
10
$176,000: iPhone Princess Plus
Designed by Peter Aloisson from Austria, this phone was one of the first exclusive, luxury iPhones to be offered by Apple to its customers. The phone's name comes from the cut of the diamonds used in making it. 138 diamonds, which the phone is decorated with around the screen, have the princess cut. The line of 180 diamonds outside these has the brilliant cut. Classy, chic and expensive enough to make anyone jealous, this phone has been loved by the richest and the most fancy customers.
9
$250,000: Savelli Smartphones
Savelli smartphones has sapphire glass, a white gold casing and are encrusted with diamonds. Alessandro Savelli says that these mobiles are more than a device; they are more like a persona. He believes that other mobile makers are not their competition and jewelry and watches are more their forte. Starting at around $250,000, Savelli smartphones seem to be coming up like the Bentleys of mobiles.
8
$300,000: Black-Diamond VIPN Smartphone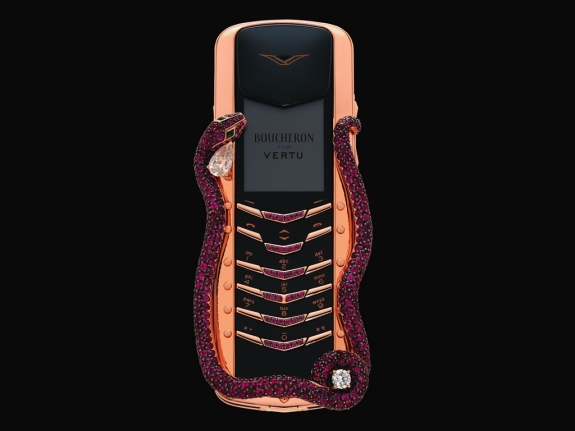 Jaren Goh designed the Black-Diamond VIPN Smartphone for Sony. The phone features a polycarbonate mirror and LED technology – and of course, being a phone in this list, it also has two diamonds. There is a diamond on the back shell and one on the navigation stick.
7
$310,000: Vertu
Vertu is a subsidiary of Nokia and is a fairly established luxury mobile phone company. French jeweler Boucheron made eight exclusive phones for the company that featured the signature cobra. The cobra is encrusted with two diamonds, two emeralds (as the cobras' eyes) and 439 rubies (to make up the snakes' writhing bodies). The case itself is made of 18-carat rose gold.
6
$1 million: Gresso Luxor Las Vegas Jackpot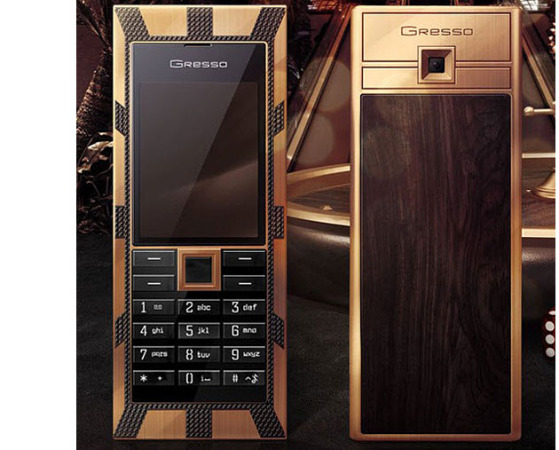 Unlike the other phones on this list, the Gresso Luxor Las Vegas Jackpot is not only all shiny metal and glittery jewels. It boasts a back panel made of expensive 200 years old African blackwoods. The wood is nicely complimented with the use of gold and the keys have sapphire crystals designed into them. Worth a million? Seems like!
5
$1.3 million: Diamond Crypto Smartphone
Other than the price tag, Diamond Crypto smartphone's claim to fame is that among the 50 diamonds encrusted on to its cover wrap, ten are rare blue diamonds. Manufacturers of this phone realized they needed to offer more than gems and jewels to live up to their exclusive aura. Therefore, they also fitted this device with features that protect from technological blackmail and kidnapping. With a phone this expensive, yes, these threats are very real.
4
At $1.3 million: GoldVish Le Million
GoldVish is a Geneva-based company that sold its Le Million to a Russian businessman in September 2013. The phone was a gift for the businessman's wife and set the record for the world's most expensive mobile phone at that time. Thanks to Apple's competitiveness, it seems to make the third slot currently. The phone is made of 18-carat white gold and 1,800 diamonds are studded on to it.
3
At $2.7 million: iPhone 6 Amosu Call of Diamond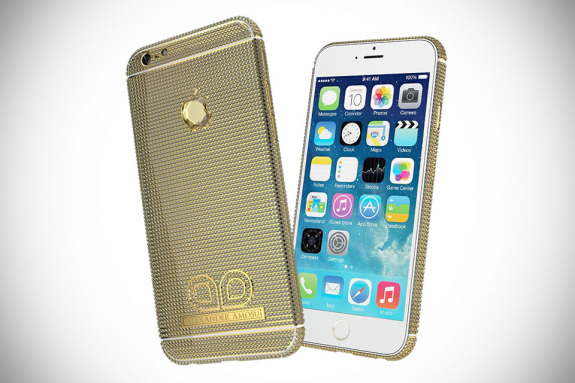 If $48.5 million is a little out of your reach, you can explore the lesser of the glamor phones produced by Apple. The iPhone Amosu Call of Diamond is a luxury edition that is encrusted with 6,127 tiny diamonds and a larger diamond on its back that is cut in the shape of the apple logo. The phone body itself is, of course, made of no less than 18 carat gold. Impressive and classy, it takes two months to make the phone casing for this sweet toy.
Psst… Still too expensive? Try the Amosu 24 carat Gold iPhone 6, which comes in a gold case but without any glittery gems and costs just about $4000. Or better: make sure to give a condescending smile when you see someone carrying this phone – like after Call of Diamond – seriously?
2
$15.3 million: iPhone 5 Black Diamond
Apple went out of its way in dressing up this fancy iPhone. The famous Stuart Hughes designed it. It has a pure solid frame that is covered by real diamonds. The Home button has a Black Diamond on it, which is the world's most expensive kind of diamond. Even the Apple logo on the back case has diamonds encrusted on it – 53 in number, to be precise. The screen is made of sapphire glass. This is one piece of awesomeness, admired by all and owned by the richest.
1
$48.5 million: iPhone 6 Falcon SuperNova Edition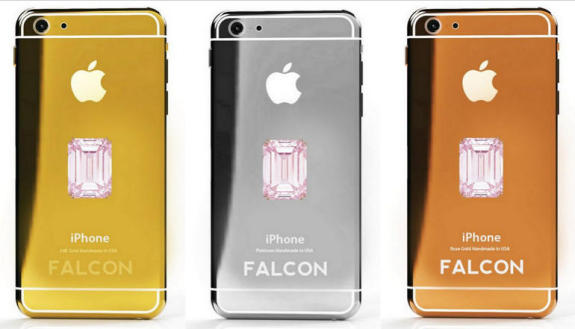 Not that iPhones are cheap by any standard any way, but designer Falcon Luxury has come up with something for the Apple fans rolling in wealth: the Falcon SuperNova Edition. The phone has a large pink diamond on the back of its gold shell. Shipping is free worldwide – well, what else did you expect?
Happy splurging!