There is no denying in popularity of football all over the world and with the world cup series of 2014, we have seen a rise in this game like never before. Like all other games the performance of the players depends upon the basic attire which in this case is solely based on the shoes. They are entirely responsible for the players protection, striking of ball, acceleration and adaptation to varying speed required throughout the field. Many companies have been providing the best football boots for decades, using the most advanced technology and innovative ideas to produce the best and the top 10 most expensive football shoes for 2014 have been discussed below:
10
PUMA PowerCat 1
The powercats are famous for its glove-like fit and soft leather which varies in hardness giving it more striking power. It is now available in many colors for $205. Other brands you can purchase at the same price are Mizuno Morelia Neo and Mizuno Wave Ignitus 3.
9
NIKE CTR 360 Maestri III
Designed to be a control boot these shoes ensure high level of performance along with great comfort. Special features include a 3D control pads along the insteps of the boot which gives special control over movement as well as enhanced bounce. another important feature is its double stitching which gives it a firm fit on the upper part and extra comfort in the lower area. NIKE CTR are available at $220. PUMA has also launched its 2014 world cup special limited edition in the same range but NIKE CTR has better reviews.
8
Under Armour Blur Carbon III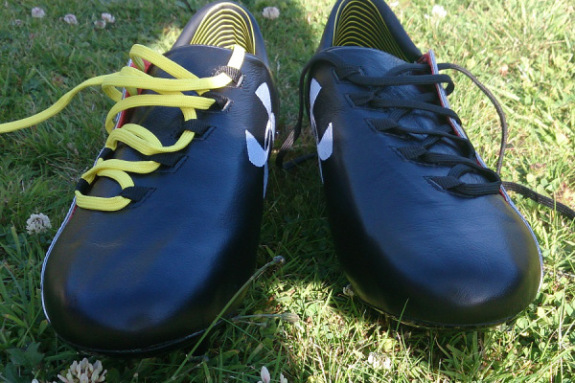 Under Armour launched its Blur Carbon III which is distinctive in terms of its game performance. Its new sole plate design is bound to boost your acceleration and gives you more stability during the 'twists and turns' of a game. Another plus point
is its microfiber upper making it extremely light-weight as well as double life span. It's price is $ 225 which is not much above the previous one, but its innovative design and metallic finish makes it one worthy of having in your wishlist for the upcoming football season.
7
Under Armour Clutch Fit Force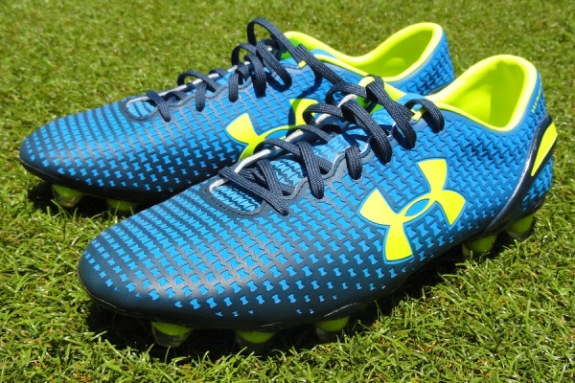 Closely following the Blur carbon we have the clutchfit force FG. Under Armour is specialized in its innovative technology and futuristic designs. The special feature of this one is its microfiber rubber cage covering which is actually a 3D rubberized material which offers two-way stretching possibility making it extremely comfortable. These boots also offer initial rebound when striking shots. They are available at a price of $ 235.
6
NIKE Hypervenom
With its unique exciting design NIKE Hypervenom has become popular for its light weight and surprisingly thin upper, giving it a bare feet type feel on the ball. This boot is designed for agility as its upper is very manageable and adapts to your movements while its stud configuration provides a traction in tight spaces. Its updated lacing system has been designed to increase the surface area of the strike zone. NIKE has specially recommended this design for the attacking players. The average cost is around $240. Adidas predator LZ and LOTTO zhero gravity are also available at this range.
5
NIKE mercurial vapor X
This is by far the best tongueless design we could have. Zhero gravity is close but this is surely the most advanced till date, despite its tight-fit and complicated lacing structure. NIKE as worked on its upper and the microfiber material to give an ultra thin fit and extremely snug fit which is ideally suitable for narrow feet. NIKE mercurial X are available for $255.
4
PELE's Trinity 3E K
The most noteworthy feature of trinity 3E is its leather upper which is fashioned out most breathe-able and soft leather. the titan leather used is extremely light weight yet it does not retain any water. This boot is extremely desirable for use in wet conditions. this lightweight speedboot is mixed with tripod stud configuration which provides extra stability and an explosive acceleration. PELE sports has added an extra layer of gel under the tongue to give it extra comfort which other designs lack. this superlight shoes boot are available at the price of $290.
3
Adidas Samba Primekit
As the name suggests, samba primekit seems more like a colorful melange of vibrancy. Adidas has taken technology to the highest level by introducing hand-knitted yarn as the only material used to design the upper of its latest design. The entire upper consists of one layer knitted out of a single yarn of thread. This yarn is specially designed to give the required fit and has proved to be highly water resistant even better than trinity 3E. Tested in the roughest of weathers this innovative design is extremely desirable though it comes with a hefty price of $330.
2
NIKE Mercurial Superfly IV
This is an extremely futuristic addition in NIKE's range of dynamic mid cut collar. Designed to create a better fit and an overall connected feel this boot is made of strong material to ensure proper spring need in game performance. Its ensures lightweight despite the additional support. The result is a less inclusive, more efficient design which is best in terms of its simplicity. the forefoot boasts of perfect control in pacey situations. the sole has been designed to be more suitable for FG surfaces. The superfly are available for $345, making it the second most expensive shoes on market.
1
NIKE Mercurial Superfly CR7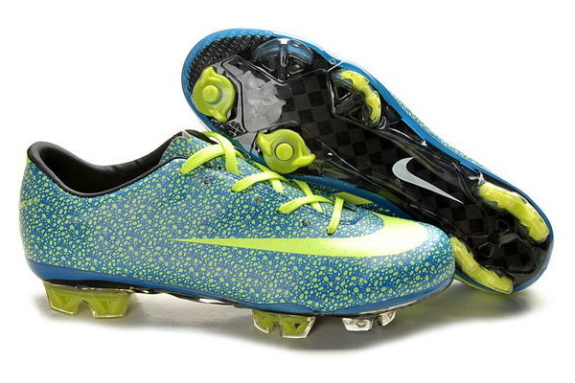 NIKE never ceases to amaze when it comes to innovation and superfly CR7 is the best example.The flyknit part of the boot is very impressive and is carefully structured to give maximum fit without restriction of movements. Its lightweight upper is shockingly responsive to foot movements. Shooting the ball is another positive experience and its unique upper and the mercurial stud pattern work together to provide the ultra grip and instant responsiveness. NIKE Mercurial 4 CR7 are so far the most expensive football shoes with a price of $375.