Being perhaps the wisest creatures that walk the earth, human beings have been gifted with artistic sense and creativity like none other. In our everyday lives, we look around and see hundreds of miracles of nature, and we take them in through our five senses, cherishing each experience. Wonders of Nature aside, man himself has created some wonders that leave us in awe. Over the centuries, many a buildings/architectural sights and pieces of art have been considered as wonders of world, and over these years, several of these have been wiped from the face of earth by storms, earthquakes and other natural disasters. Many new discovered sites have been included in this list and many old ones have been removed. In this blog are mentioned ten most latest Man Made Wonders of the World:
10
Easter Island Statues, Peru
Located in Chile's north Pacific region, Easter Island is considered as one of the world's most isolated of inhabited lands. Another significance of the island is that it has no trees whatsoever. Here on this desolated space are found the massive ancient sculptures named as "Mois". These statues were created and carved by rapu's ancient people, who lived between the periods of around 1200 to 1500. These giant statues have been carefully carved by the extinct volcanoes of Easter Island's stones and average weight of each of this statue is about 270 tons! As evident from its historical value, the site has been included in UNESCO's world heritage list.
9
Colosseum, Rome
Largest amphitheater ever made, Colosseum of Roman Empire still stands tall in its massive pride. This huge arena was built in the 70AD by stones and concrete in over nine years. Its architecture is a typical Roman one and had the ability of about 50000. The building has eighty entrances in total. In days of yore, this arena was used for gladiator fights and several other bloody contests. Today, Colosseum has become one of the biggest tourist attractions as well as one of the most famous wonders of the worlds.UNESCO listed in a world heritage in the 80s.
8
Parthenon, Acropolis
It is said that your visit to Athens will not be complete unless you have thoroughly explored the mighty Parthenon, lying isolated on the top of Acropolis. This huge temple's construction was started in around 447 BC, after the locals decided to bring down and old temple and build a new one. The construction took around a decade to complete, and the temple was officially said to have opened in 438 BC. The temple was solely built to give home to the giant statue of Athena Parthenon, which was made beautifully of ivory. Ever since then, this temple has served several purposes: it has been used as a church, a mosque and even as a fortress.
7
Christ The Redeemer, Rio De Janeiro, Brazil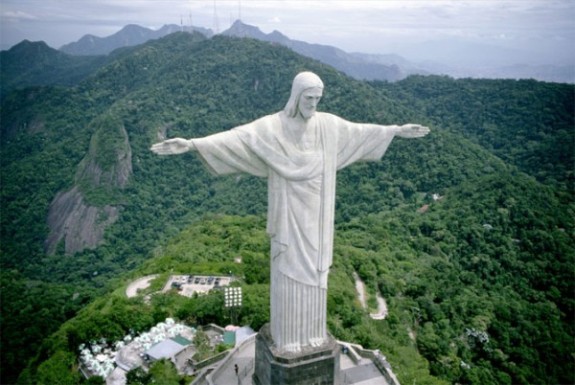 Recently, in the 2014 World Cup, the world has seen a lot of Christ the Redeemer, the massive statue standing in the heart of Rio de Janeiro. Relatively, this man made wonder of the world is still new. Created by modern man, it is considered as the fifth largest Christ statue of the world. The stones that were used in building this life-size statue were specially imported from Sweden. Upon the completion of Rio de Janeiro, the man who was creating the head turned into Catholicism.
6
Taj Mahal, India
The white marble clad building located in India, Taj Mahal has today become a symbol of love. It is considered as one of the world's most beautiful buildings and has over the years remained one of the wonders of the world. This immense mausoleum was built on the orders of Shah Jahan the Mughal emperor: it was built for his favorite wife's tomb. There are many beautiful buildings that were built during the Mughal Empire, however, Taj Mahal is considered as the most beautiful example of Mughal architecture.
5
Petra, Jordan
Petra, often referred to as the "Rose Red City" or "half as old as time itself" is Nabataean's ancient capital. Not only is Jordan's most previous jewel, it is also a world heritage and attracts thousands of tourists every year to the spot. This gigantic city was "carved" on the side of Wadi Musa Canyon some centuries back. Even today, this mastery of human hand stands tall. The most famous and not to be missed building of Petra is "Al Khazana", which has been masterfully carved of a sandstone rock face.
4
Angkor Wat, Cambodia
One of the largest religious buildings of the world, Angkor Wat has become one of the most important sites of Cambodia, and also appears on its national flag. This religious complex holds within its walls the remains of a number of capitals of Khmer Empire, dating from 9th century AD to around 15th. The whole Angkor Wat is spread across around 500 kilometers. The temple has more than 3000 carvings of nymphs upon its massive walls and is built entirely of sandstone. In the past, the temple belonged to Hindus; however it is still in use to this day, but by Buddhists.
3
Machu Picchu, Peru
Peru's biggest tourist attraction, Machu Pichu is one of the most beautiful ancient sites of the world today. It was discovered in around 1911 by Hiram, a Hawaiian historian. For centuries, this grand wonder of the world lay undiscovered and hidden above the valley of Urubamba. This self contact was once one of the most developed places to live in, with its agricultural terraces as well as natural springs. Because of its height and location, it was also among the safest of the cities to live in. Labeled as the "lost city of the Incas" this land lies totally invisible to the outside eye.
2
Great Wall of China
The longest ever construction, Great Wall of China is still one of the biggest man-made wonders of the world. This giant wall was built some two thousand years back and is around 8851km long. The wall is mainly made up of brick, wood and stone. It also remains the only man made structure that can actually be seen from outer space, even moon. During its construction, around one million people lost their precious lives. The height of this wall varies of spot to spot.
1
Great Pyramid of Giza, Egypt
Pyramids have always been a source of amusement and amazement to the world. However, The Great Pyramid of Giza is the largest and the oldest of the three. It is also Seven Wonders of the Ancient World's oldest wonder that is still intact. It is also the only surviving one of the seven. It was built for Pharaoh Khufu of Fourth Dynasty and took around two decades to complete. In our list of top ten man made wonders of the world, no doubt, Pyramid of Khufu remains on the top.