Abstract art, non-object art, historical sketches, or artwork for that matter – all have a different value to the human eye. For many centuries, the world has witnessed genius painters and their work like Leonardo's work  and Picasso's paintings, whose masterpieces are still cherished to this day. If you'd like to know who has them and how much did they pay to get them, read through our list of top 10 most expensive paintings sold in the world.
From the thirteenth century to a few decades master painters have produced invaluable works that cost millions of dollars at the auction. Here are the top 10 most expensive paintings sold in the world.
10
Portrait of Adele Bloch-Bauer II (1912) By Gustav Klimt – $87.9 million
This is another painting that features Adele Bloch-Bauer. The first one is high up on this list. The painting was taken away by Nazis and has been in an Austrian Museum until 2004 when it was given back to Bauer's niece.
9
Dora Maar au Chat (1941) By Pablo Picasso – $95.2 million
This painting was sold by the Gidwitz family to Boris Ivanishvili in 2006 at Sotheby auction, New York. This Picasso master piece featured one of his lovers just like his first work on this list. This painting is said to have been completed at the time when Nazi was occupying France.
8
Eight Elvises (1963) By Andy Warhol – $100 million
An unknown buyer bought this painting from Annibale Berlingieri in 2008 through a private sale that was overseen by Philippe Segalot. The eight Elvises is a silkscreen painting that was done by Andy Warhol, a renowned American pop artist. The painting features Elvis Presley.
7
Garcon a la Pipe (1905) By Pablo Picasso – $104.2 million
This masterpiece by Pablo Picasso was to the Barilla Group through an auction carried out by sotheby. The painting was originally owned by the Green foundation. The painting was done when Picasso was only 24 years. Though the painting is not as great as other works by Picasso, it was sold at a whopping $104.2 million due to the name of the artist.
6
Nude, Green Leaves and Bust (1932), By Pablo Picasso – $106.5
The sixth most expensive painting was purchased by unknown buyer at an auction in New York in 2010. The paint is made of oil and canvas and displays the muse and mistress of Picasso referred to as Marie Theresa Walter. This painting fetched the second highest cash earned from a painting sold through an auction.
5
The Scream (1895) By Edvard Munch – $119.9 Million
This 1895 pastel was bought by Leon Black through a Sotheby's New York auction in 2012. There are four versions of the painting and the collection was referred to as Der Schrei der Natur (The Scream of Nature). The remaining three versions are in Norway. The artwork shows a person agonizing in pain.
4
Portrait of Adele Bloch-Bauer (1907) By Gustav Klimt – $135 million
This painting was bought by Ronald Lauder in 2006. The painting features Adele Block-Bauer, the wife of Austrian Industrialist, Block-Bauer. The painting is done in oil and gold and shows a complex artwork done in the Jugendstil fashion. The painting was confiscated by the Nazis at the time of the Second World War but was later handed to Maria Altmann, Block-Bauer's niece in 2006.
3
Women III (1953) by Willem de Kooning – $137.5 million.
The Women III painting was acquired by Steven Cohen in 2006. The expressionist painting was initially a part of the Tehran Museum of Contemporary Art. The painting was traded in 1994 following the ban on artwork that featured such a model of a woman. David Geffen acquired it in 1994 and sold it to Cohen in 2006. This painting forms part of a six painting series produced by the same artist and which feature a woman.
2
No.5 (1948), by Jackson Pollock – $140 million
This is the second most expensive painting ever sold. The paint was acquired by unknown buyer through a private deal in 2006. The painting originally belonged to Samuel Irving Newhouse Jr. This painting forms part of the abstract expressionist movement and features what appears to be a nest made of brown and yellow paint.
1
The Card Players (1892-93) By Paul Cezanne – $259 million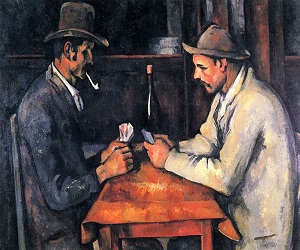 The card players refer to a series of five paintings that were done by Paul Cezanne, a French post impressionist artist. The paintings are housed in different locations around the world. One is at the Metropolitan Museum of Art in New York. The second one is housed by the Barnes Foundation, Philadelphia. One is at the Musee d' Orsay, Paris and another in London at the Courtauld Institute of Art. The largest of the paintings was acquired by the royal family of Qatar for $259 million in 2011.